Chad Gehrig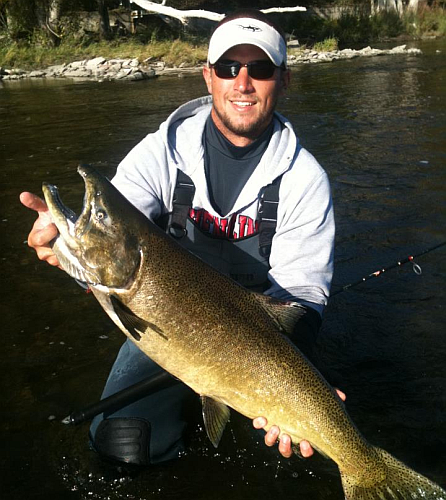 Fishing Seminar: "Fishing Lake Ontario"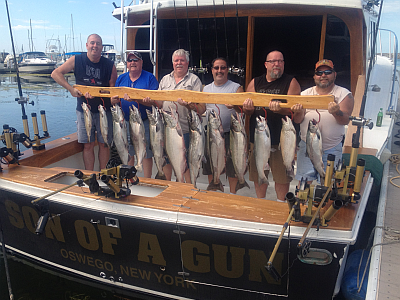 Chad Gehrig will be sharing his knowledge of catching record breaking fish on the cool waters of Lake Ontario. Come and learn from this record holding charter boat captain and find out how he does it on his boat, "Son Of A Gun," a 40 foot Jersey Sportfisherman.
Chad is a life-long fisherman who got his start in the world of charter fishing at the early age. At just thirteen years of age, Chad's father introduced him to the business and taught Chad everthing he knew about running a successful boat. All the hot topics were covered from how to navigate a boat, how to find the big fish, how to rig rods, how to chose lures, how to net fish and of course how to entertain guests while spending the day on the water catching the big ones.
It was this early start in the world of professional fishing that got Chad hooked and before long he was spending all his spare time working for his Dad on the family boat the Top Gun and entering fishing tournaments.
From high school and throughout college, all Chad could think about was fishing. After college, he worked full time on the Top Gun and in 2010 he acquired his Captains License. With team Top Gun, Chad had many victories and top 10 finishes including a top 10 finish under "Best of the East," at the 2011 Pro Challenge Cup.
"Fishing these tournaments on such a prestige team really taught me a lot about the need to put fish on the boat which is puts me miles a head of other charter captains."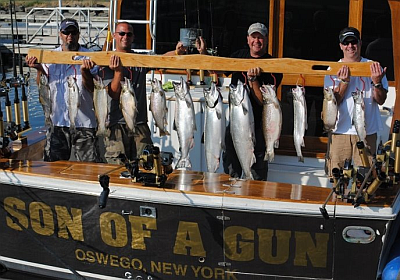 In 2011 Chad Gehrig took the plunge into a new venture with the purchase of his own boat, Son Of A Gun! The Son Of A Gun is a forty foot jersey sportfisherman and if you ask Chad, he'll tell you it's the largest and most comfortable charter boat on the lake.
2012 was an exciting year for Chad as he proved himself to the fishing community when he took first place in the Oswego ProAm, something top gun has yet to do, finished first place in the summer LOC derby with a 30+ lb king salmon, and finished 2nd in the a Tom-mik challenge all while competing against Lake Ontarios finest captains and anglers.
If you meet him, you will find that Chad is very dedicated to fishing, but he also has another passion... giving back. For Chad, that means working for a cause he believes very strongly in, that being breast cancer research. In 2012 Chad held a Ladies Fishing Tournament out of Oswego as a benifit for breast cancer research and was able to donate $1500 to the cause. He plans to expand the tournament in 2013 and has already set a goal to double both the donation and the tournament size!
Chad had a very successful first year. He ran over 85 successful charters and took many trophy fish as well as limit catches.
For 2013 he plans to run over 140 charters and continue to place in the top 10 in tournaments. Would you like to tap into his success?
Meet Chad Gehrig down at the Springfield Sportsmen's Show, catch his fishing seminar, and be sure to plan a trip on Lake Ontario.