Northeast Taxidermy Studios
Joe Pitruzzello and the crew of Northeast Taxidermy Studios are are true experts of the craft. They hail from Middletown CT and can turn your next kill into a spectacular trophy that will last a lifetime. From local wildlife to exotics or even giant creatures of the sea, these guys can do it all. Amazing displays are the standard when it comes to Northeast Taxidermy Studios.
This family owned business has been in operation since 1976. Their extensive knowledge and extreme attention to detail has led them become one of the leading taxidermy studios in the country. When you see their displays, you'll understand why these wildlife artists are sought out by top game hunters from around the world.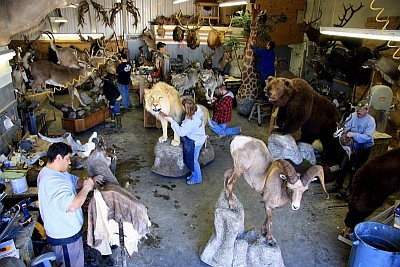 Northeast's work has been at the show for over 10 years with amazing panoramic presentations of wildlife situations. We look forward to seeing their next display at the show.