Captain Pat "T-Man" Renna

Captain Pat Renna was at the Springfield Sportsmen's Show. He gave a fishing seminar titled, "Light Tackle Trolling Tubes & Spoons w/the T-Man Trolling System." Captain Pat is the owner of T-Man Custom Tackle, LLC.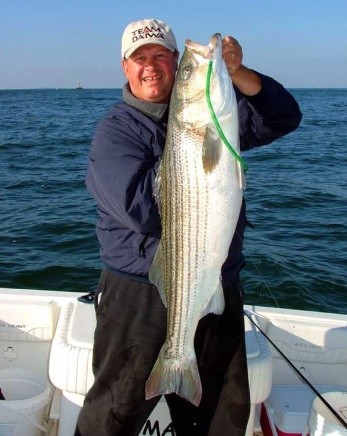 Popular Connecticut charter boat captain and striper fishing enthusiast, Pat Renna is well know for his innovative striper trolling techniques.
Pat is the creator of T-Man Striper Tubes & the Quick Change Keel trolling system as well as a variety of angler proven lures such as: T-Man Super Swimmers, Tins, Surface Poppers, Casting Tubes and Casting/Trolling Spoons. Captain Pat has many years of trolling experience on the waters of Long Island Sound & the Connecticut River.
It is Captain Pat's successful development of innovative lure designs which are great at catching fish that have lead him to be know as the "T-Man."
A member of the Team Daiwa Pro Staff, Captain Pat has several magazine articles and television appearances to his credits and is a highly sought after speaker for his Light Tackle Trolling Instructional Seminars. Many anglers have improved their fish catching skills as a result of attending Captain Pat's seminars and instructional charters.
Captain Pat has over 20 years experience on Long Island Sound and is well known for his innovative Tube 7 Worm trolling techniques.
Find out more about Capt. Pat "T-Man" Renna at www.tmancustomtackle.com or give Capt. Pat a call 860-668-1302.