Sheron Brown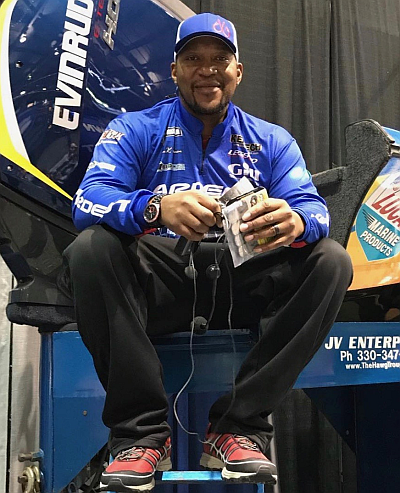 Sheron K. Brown was born and raised in Worcester, Massachusetts.

Born to single mother with four children, life wasn't always easy. Not knowing or having a father in his life . The most common story you hear from Angler's are memories of their father teaching them how to fish, their biggest catch on those adventures. This wasn't the case for Sheron. His childhood memories were not the same, which set him apart from those who he looked up to in the fishing world, but would also become the drive needed to improve his game, work with children less fortunate and show people in similar situations that dreams can come true.
His Mother taught him how to fish, going down to streams and puddles, throwing whatever rod he could afford and seeing what happens is where the love for fishing was born and where he would spend most of his time. Any chance he got… he was fishing. This became the fabric of his upbringing. A place of solitude, and way to escape what society "pinned" his story to be as a young black man raised in a single parent home.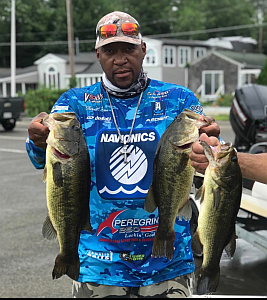 Sheron often times is quoted for saying "teach 'em young" something he firsthand realize was important in the lives of children. He believes the lessons learned in fishing are ones that that can transcend in young lives that will groom you for what is to be expected in the adult world.
Currently Sheron resides in Leominster, Massachusetts with his wife and three children who are his biggest fans and make it to as many events as possible to show their support.
These days Sheron can be found at any body of water up and down the East Coast perfecting his craft with his family in tow.
He can also be founds at local charity events giving back to his community through his story as well as representing his Title Sponsor Ardent Reels at fishing shows held in New England.
Accomplishments:

2017 BASS Eastern Regional Championship
2017 Mass Bass Nation CT River Oxbow Champion
2016 BASS Eastern Regional Championship
2016 American Fishing Tour National Championship
2016 Mass Bass Nation TOC Champion
2015 BASS Eastern Divisional Championship
2014 BASS Eastern Divisional Championship
2013 American Bass Anglers District 5 Mashpee Pond 1st Place
2013 American Bass Anglers District 36 Wallum Lake 1st Place
2013 Massachusetts State Team
2011 Bassmaster Open Contender
2010 FLW American Fishing Series Invitational Championship
2010 FLW Series Event Lake Champlain Day 1 3rd place
2009 American Bass Anglers District 5 Wequaqet Lake 1st
2009/08 Bassmaster Weekend Series Regional Championship
2007 B.A.S.S. National Federation Championship Day 1 Leader
2007 Massachusetts State Champion
2007 Massachusetts State Team
Some fun facts about Sheron:

His nick name is "The Lunkerman."
He is the only ABA angler in Massachusetts that has won the division championship in more then one division.
ABA district 36 and ABA district 5.
He is the only angler that has weighed a 20 plus pound sack of fish in more then one ABA division.
He has won a tournament in 4-5 major sections of the CT River. (Bartons Cove, Oxbow, Hartford, and Hinsdale)
He was the Day 1 leader at the last televised BASS National Federation Championship event
(Aired on ESPN2 & ESPN Deportes)
He has qualified for the Bass Nation State team in 3 different states
(Massachusetts, Rhode Island, New Hampshire)
Sheron annually participates in high profile benefit tournaments like the Maine Special Olympics (MSO) tournament on Lake Cobbosocontee in Augusta, Maine and the Life Skills Charity Event on Webster Lake in Webster, MA
He will always take time out of his busy fishing schedule to take a kid fishing!
Sheron is sponsored by Ardent Outdoors, Vicious Fishing, FishSens technology, GILL, Connectscale, Amphibia Eyegear, Loaded For Bass, Radfish, Eco Pro Tungsten, Peregrine 250 Boat Care Products, Navionics, Leslie Storrs C21, Superstick, and his beautiful family!
Sheron did not have a dad growing up and his mom taught him how to fish; he always attends sunrise service with his mom on Easter Sunday before he wets a line!