Thomas Drummey - The Fly Tying Kid
Thomas Drummey is the "Fly Tying Kid." and you can meet him at the Springfield Sportsmen's Show! This 11 year old fisherman knows a ton about fly tying. So much so that he has taught clinics at LL Bean and Cabelas. He also does presentations at local wildlife and outdoor festivals. You'll be amazed at his knowledge and expertise.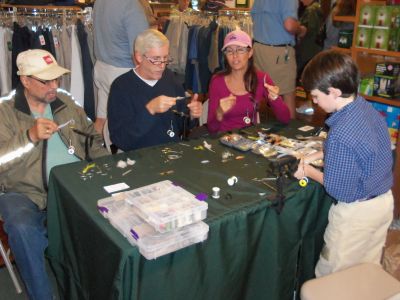 Thomas originally built a small vise from wood scraps and tied his first flies and lures with thread from his mothers sewing kit and feathers harvested from his chicken coop! That Christmas he asked for a professional kit and found one under the tree Christmas morning. From that early start, the rest is history. Thomas Drummey has been trying flies ever since and constantly improving on his craft.
Thomas is related to Gary LaFontaine, the famous fly fisherman and author. Whether he gets his amazing talent from great genes, extensive study or a combination of the two, this is one kid you'll want to meet if you enjoy fly fishing.
Thomas fishes with his dad on Lake Champlain for trophy bass and Northern Pike. He also heads down to Long Island Sound to target snappers, schoolie blues and stripers when the runs are hot. Many interested anglers have tied their first fly with Thomas and they next angler may be you!
Come down to the Springfield Sportsmen's Show and meet this new up and coming talent and learn all about tying flies!