Axe Women Loggers of Maine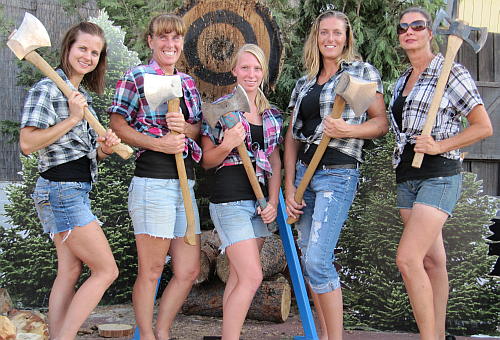 The Axe Women Loggers of Maine were at the 2014 Springfield Sportsmen's Show for a spectacular lumbering exposition event. These timber sports athletes competed in Underhand Chopping, Two Women Cross-Cut Sawing, One Woman Cross-Cut Sawing, Axe Throwing and the always exciting Log Rolling! It was fun for the entire family.
This troop of highly skilled women put on a great show! They are true champions at what they do. They have honed their timber sport skills and they hold plenty of titles to prove it.
The Axe Women feature more current World Champion performers than any other show including various event championships from 2006, 2007, 2008, 2011 and 2012.
These female logging sports athletes are showing young girls that women can do just as well as the men in any sport they choose.
The Axe Women Loggers of Maine have been seen all around the world and seen on TV. They are truely an amazing group of champion choppers and axe throwers.