Brody the Kodiak Brown Bear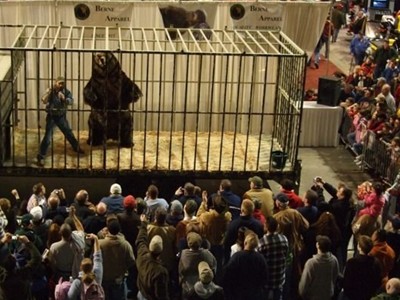 The star of the movie, "Grizzly Park," Brody the Bear was at the Springfield Sportsmen's Show! Brody is a trained bear that was raised by trainer, Jeff Watson, since he was just a cub. This massive kodiak brown bear is huge and seeing him live is much different than seeing Brody on the big screen in the movies.
Brody has an extensive career.
He has appeared on the Tonight Show with Jay Leno, The Today Show, and Good Morning America.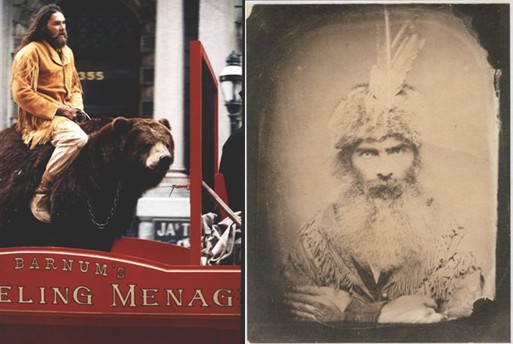 Brody was in the A&E mini-series titled "Barnum" starring Beau Bridges.
In the mini-series, you can see both Jeff and Brody. Jeff portrays "Grizzly" Adams and Brody of course plays the part of the loving bear that he tamed in the wild.
On the left you can see an image from the mini-series and next to it is a photo of the real "Grizzly" Adams.
For those who are not aware, Adams was born in Massachusetts and is buried in Charlton, which is approximately 40 miles from Springfield. His gravestone is located at the Bay Path Cemetery.
The story of "Grizzly" Adams became very popular with the NBC TV series titled, "The Life and Times of Grizzly Adams." The story covers the tail of a man in the wilderness who discovers and orphaned bear which he decides to raise. The bear which he named Ben, became a loyal friend and companion which joined him everywhere he journeyed.
Brown bears are huge and extremely strong.
Just take a look at this footage below of Brody's appearance on National Geographic.
Brody is one powerful bear.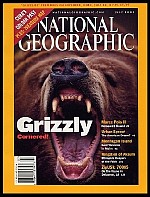 In addition to his work with National Geographic, Brody has appeared on many TV shows like Dangerous Encounters with Dr. Brady Barr, The Jeff Corwin Experience on Animal Planet and Walker Texas Ranger.
He has done many TV commercials as well. You may have seen Brody in an Energizer Battery Commercial or a Rice Crispy Treats Commercial.
Trainer, Jeff Watson notes that Brody may be cute looking, but he is a real Kodiak Brown Bear and although he was raised as a cub, he still must be respected just like any wild animal.
Jeff enjoys working with bears and he is dedicated to educating the public about them.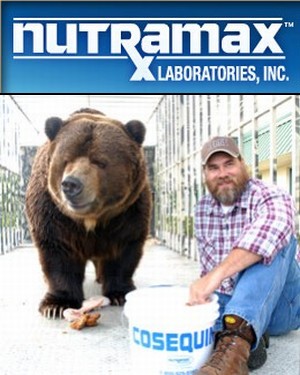 This special display was sponsored by Nutramax Laboratories which offers the highest quality supplements for animals as big as Brody and small your household pets.
Whether your pet is as small as a bunny or as large as a horse, Nutramax Laboratories, Inc. offers a range of products, manufactured to the highest standards, to improve their quality of life. To find out more, visit the Nutramax website.