Captain Bruce Millar
USCG Masters License
30 years local fishing experience
Member CT. Charter / Party Boat Association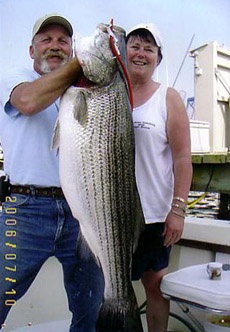 Captain Bruce Millar was a featured trophy bass expert and guest speaker for the National Seminar Series for SALTWATER SPORTSMAN MAGAZINE in 2005 and now, you can meet him in person at the Springfield Sportsmen's Show!
With 30 years of fishing experience under his belt, Captain Bruce is a treasure trove of knowledge.

Come to the show and listen to Captain Bruce speak on his trophy bass catching techniques.

Capt. Bruce specializes in the hunt for trophy Stripped Bass taken on light to medium tackle both day and night.

The pursuit of big stripers has been an obsession with Captain Bruce for over 30 years.

He knows when the big fish are in and how and where to catch them.

Most importantly, he wants you to catch them! Large bass (some each year over 50 pounds) are taken by trolling, casting plugs or eels, and also drifting with live or dead baits.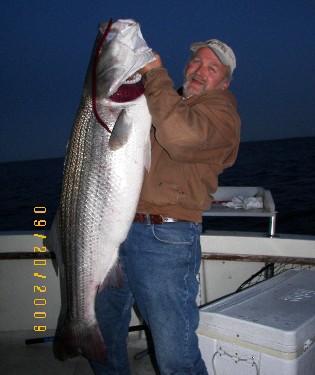 Just look at this beautiful cow, it was caught aboard the "Otter" by a charter customer.
This 62 pound bass was the largest of the 7 fish caught in the over 50 pound class of Striped Bass for the 2009 season!
Captain Bruce's favorite method is trolling his own hand-made lure called the "OTTER TUBE." Over ninety percent of the OTTER's record catches where caught by using these tubes.
Each and every time the captain's boat, "OTTER," leaves the dock Captain Bruce is on the hunt for record class bass. If you are after your own personal "BEST" or a record Striped Bass, then your chances are greatly increased when you climb aboard the "OTTER: with Captain Bruce and his crew.
Below are just a few of the many pictures taken from the OTTER:
If you are ready to head out on an amazing trip that you will never forget, be sure to meet Captain Bruce at the Springfield Sportsmen's Show.
Want to find more info about Captain Bruce before the show?
Visit his website at http://www.captainbrucesportfishing.com
Don't forget to like Captain Bruce on Facebook