Country Club Enterprises

Wareham, MA 800-662-2585 • Greenfield, MA 800-287-0955
Saco, ME 800-576-1771 • Hookset, NH 866-702-0200

We'd like to thank Country Club Enterprises for being one of our many show sponsors. Running a show as large as the Springfield Sportsmen's Show takes a lot of running around and we count on the great folks at Country Club Enterprises to keep us on the move.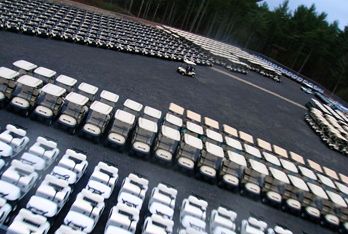 From setting up, managing the show, and breaking down, you'll see us utilizing CCE Carts.
Country Club Enterprises has been in business for over 30 years. From sales to service, they do it all.
We are always impressed when we look at their extensive inventory of carts.
Recently, Country Club Enterprises opened up a new location in Greenfield. That is great news for everyone from Western Mass looking for a local dealer of golf and utility carts.
CCE's market extends way beyond Massachusetts. They have clients throughout New England. CCE has four locations. Two in Mass, one in Maine and another in New Hampshire.
You will see CCE carts being used in many service industries including colleges and universities, hotels and resorts, nurseries and landscape businesses, and of course at the Northeast's Strongest Fishing, Hunting and Outdoor Show.

If you are looking for a golf or utility cart solution for your business, take a look at Country Club Enterprises. Now that they have a location in Greenfield, they are just a short dive away.
You can also find everything you'll need on their website: http://www.ccegolfcars.com