Geoffrey English - Dog Demos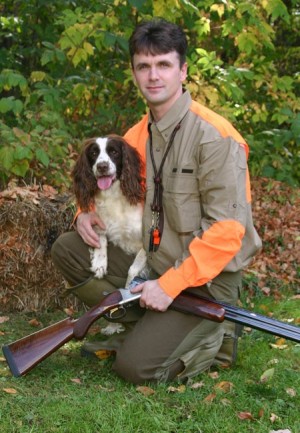 Geoffrey English will be doing hunting dog demonstrations at the Springfield Sportsmen's Show.
Geoffrey has titles with numerous dogs from AKC hunting and field events. He is prolific writer, instructor and dog handler. He enjoys sharing his extensive knowledge with other bird hunters and outdoors men and women who share a passion for working with man's best friend.
Show attendees will learn new skills on how to get the most out of their hunting dogs.
Geoffrey is committed to providing the outdoor enthusiasts with the very best information on hunting dogs.
Geoffrey and his dogs will be at the Retrieving Pool. Geoffrey demonstrates basic skills through advanced field Work with hunting dogs.
Geoffrey English is the Founder and Editor-in-Chief at GundogsOnline.com.
GundogsOnline.com has long been known as the internet's best source for products, information and videos to help you get the most from your hunting dogs. Geoffrey and his wife, Dana, own and operate Woodland Kennel where they have successfully trained and titled English Springer Spaniels and Labrador Retrievers in AKC Hunting Tests and Field Trials for over 15 years.
Geoffrey is an avid upland and waterfowl hunter. He has appeared on numerous TV shows, such as Benelli's American Bird Hunter, educating viewers on how to properly train their hunting dogs. Come see this well know hunting expert at the show.