The Springfield Sportsmen's Show is undisputedly the largest "pure" sportsmen's show in the Northeast! This mega sporting event takes place at the Eastern States Exposition, home of the "BIG E," West Springfield, Massachusetts. The show includes the best of hunting, fishing, boating and adventure recreation that the outdoor world has to offer all bundled together in one great event. You'll find everything you need for your next trip. As you can see, our new show dates have been selected and we're already getting started on next year's show! Mark your calendar for February 20-23, 2014!
Exhibitors, the new 2014 Contracts are in! Head over to the Exhibitors Package page to download your contract. Get your contract in early to guarantee your place in the upcoming show. We are looking foreward to another great show season and you don't want to be left out. We are excited about 2014 and plan to make it a memorable year.
While we're working on the upcoming show, feel free to check out our content from last year's show.
LAST YEAR'S SHOW INFO
_________________________________________________________________

All of the information below is from the 2013 Springfield Sportsmen's Show
_________________________________________________________________

We've gathered the top vendors of hunting and fishing equipment along with guides, outfitters, and charter captains. You get the best selection and the best deals of the year all in one convenient shopping location. That's why the Springfield Sportsmen's Show is the Northeast's strongest fishing, hunting, and outdoor show.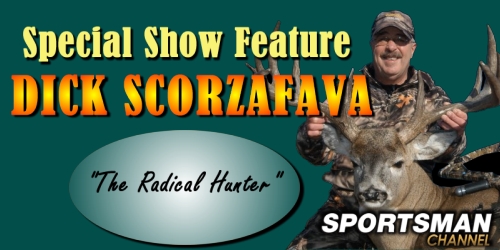 2013 marks the 30th season of the show!
Much more than the typical sportsmen's show, we pride ourselves on innovation. We were the first to put a full sized Water Dog Retrieving Pool in a show. We helped the Northeast Big Buck Club launch their highly successful measuring organization. We were the first backers of now 'world famous' whitetail expert Dick Scorzafava. It's our enthusiasm for innovation combined with a dedication to bringing sportsmen and women the very best the sporting industry has to offer that keeps us ahead of the pack.
People from all over the Northeast love the Springfield Sportsmen's Show, because it is loaded with great show features including educational hunting seminars, fishing seminars, and fun exhibits like our big casting pool, the retrieving pool, and the giant fresh water fish aquarium! Join us during our 30th Anniversary, Here's a look at the line up:
World renowned big game hunter and TV star, Dick Scorzafava will arrive at the Springfield Sportsmen's Show to present his well known Radical Hunting Success Seminar, introduce the new Dick Scorzafava Radical Hunter Signature Series of hunting products as well as sign books for his many fans and of course giveaway thousands of dollars worth of hunting gear in Dick's Big Gear Giveaway!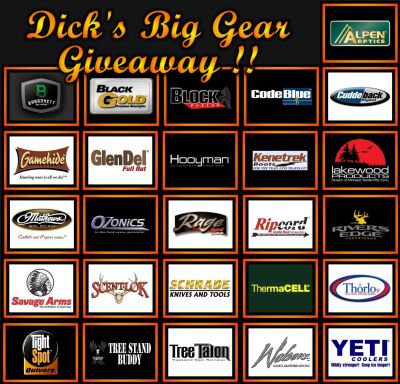 Dick Scorzafava is "The Radical Hunter." Known throughout the industry as an expert in the field, Dick has three books to his name, Radial Bowhunter, Radical Bear Hunter, and Spies in the Deer Woods!"
Although Dick is a prolific author and conducts over 75 seminars throughout the country, it is his amazing skill in the field that has built his reputation as a master outdoorsman. It is this great reputation that allows Dick to giveaway over $7,000 in hunting gear in his Big Gear Giveaway thanks to his extensive list of sponsors.
Take advantage of this wonderful opportunity to see and learn from, "The Radical Hunter," Dick Scorzafava. After the show you can apply your knowledge and harvest a trophy buck of your own.
| | |
| --- | --- |
| | If you get the Sportsman's Channel, you'll want to catch Dick's show appropriately named, "The Radical Hunter." On the show, you'll find Dick sharing knowledge as he goes on exciting big game hunts in the great outdoors. Don't worry if you do not get the Sportsmen's Channel, because Dick also posts episodes of the show on the website: The Radical Hunter. |
This is just the beginning, there is so much more to see and do, just take a look.
Captain Bill Brown returns with more tips and techniques and tales of big fish than ever with his "Shoreline to the Canyon" and "Sharking" seminars!
We are pleased to have this well known seminar speaker with us at the Springfield Sportsmen's Show. If you want to crank up your level of success on salt water, Captain Bill is the guy to see.
He is an acknowledged expert for both inshore and, especially, offshore angling where his ability to capture big sharks is legendary!
If you love the thrill of catching record breaking fish, you need to meet Captain Bill Brown.
His clients presently hold six State Gamefish Records, including the 506 pound Thresher Shark that won the 2003 Oak Bluffs (MV) Monster Shark Tournament and set a new MA State Record for that species.
You may have seen him on NESN, VERSUS, and ESPN's 'Madfin' series, but now you can meet him in person! Come down to the show and learn from this fishing expert.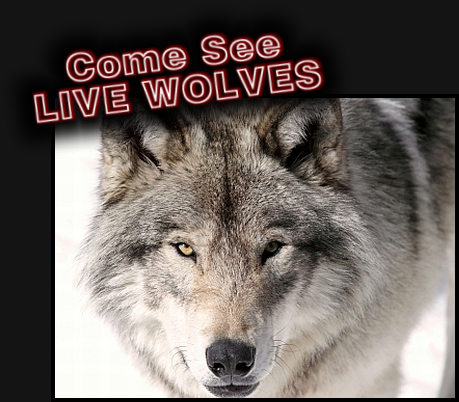 The wolves are coming to the Springfield Sportsmen's Show.
New for 2013 we have a special live event where you can see REAL wolves!
This special event will give you and your family an incredibly close view of one of natures most amazing creatures.
Most people will rarely see a wolf in their lifetime in the wild, but they exist all throughout the world. By coming down to the show you can not only see real wolves, but you can learn a lot about them and how they behave in the wild. This is an amazing opportunity and we are really looking forward to this in-show event that is included with your admission to the show!
Come down to the Sportsmen's Show and see these stunning decendents of man's best friend.
Is this the biggest whitetail ever taken in Massachusetts?
We'll find out shortly at the Springfield Sportsmen's Show during the measuring of Greg Lussier's Berkshire County monster!
Preliminary measuring says that it should measure about 211 inches of non-typical antler, outdoing all other whitetails taken in the state.
The "Northeast Big Buck Classic" will be showing this great trophy along with the finest whitetail deer in the Northeast!
Racks entered during the show will be part of the largest organized deer rack/mount display in the entire Northeastern United States!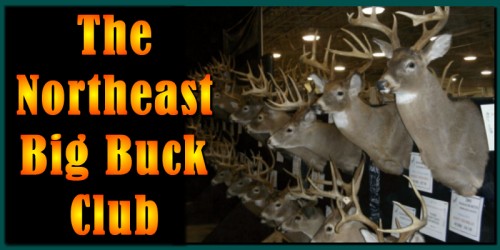 One of the special features of the show is the Big Buck Display. This is a remarkable display put on by the Northeast Big Buck Club, a non-profit organization dedicated to Northeast hunters and outdoorsmen.
Each year hundreds of volunteers measure trophy bucks from MA, CT, VT, RI, ME, NH, NY and PA.
The walls are lined with incredible racks.
After the hunting season, the Northeast Big Buck Club hosts an awards banquet. Awards are presented to the largest typical and non-typical bucks harvested in the previous year with a bow, gun and muzzleloader.
This year is going to be extra special due to Greg Lussier's spectacular success in the field. Come down to the show and see his incredible trophy buck and the extensive display of racks put on by the Northeast Big Buck Club.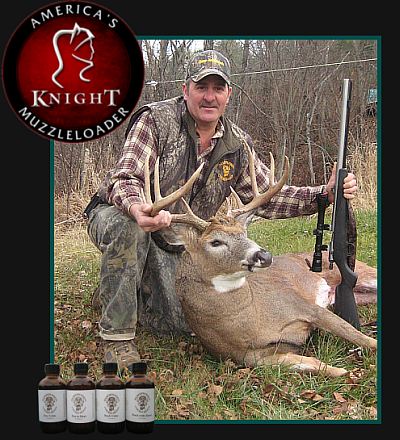 KNIGHT RIFLES Pro Staffer, Dean Vanier of North Woods Common Scents has a special seminar for you.
Are you ready to increase your hunting success in the woods?
Dean will be presenting a special seminar on advanced scent hunting techniques at the Springfield Sportsmen's Show.
In his seminar, "Calling Whitetails and Advanced Scent Hunting Techniques," Vanier breaks down the whitetail's superior defense mechanisms.
He'll show you how to beat these defense mechanisms and use them to your advantage. By doing so you will increase your odds of success in the deer woods.
With over 35 years of successful hunting, Dean's seminars are in high demand. He has shared his sure fire hunting techniques at the NH fish and Game Department, Vermont's Yankee Sportsman's Classic, Maine's Pine State Classic and now you can benefit from his extensive knowledge at the Springfield Sportsman's Show.
Come meet Canyon Reels Pro Staffer, Captain Ed Noble. With twenty years of catching big fish on Atlantic waters, Captain Noble has perfected the art of wire line fishing on his boat the Reelentless.
Join Captain Ed at the Springfield Sportsmen's Show and learn the ins and outs of modern wire line trolling. Advances in rod building and reel technology have brought this often overlooked and ignored fishing method into the 21st century.
Here is your chance to learn insider tips and tricks during his deep sea fishing seminar.
Meet Dave Pickering and learn his secrets of carp fishing. Dave is a freelance writer, photographer and lecturer who specializes in both freshwater and saltwater fishing.
In addition to his expertise in catching mega carp, Dave is also a seasoned pro when it comes to landing big stripers.
Dave's extensive knowledge on how to catch strippers comes from years out on the water. Whether you like to fish from shore or on the water, Dave Pickering can teach you how to land more strippers.
If you love saltwater fishing and want to learn more, be sure to see Dave at the show.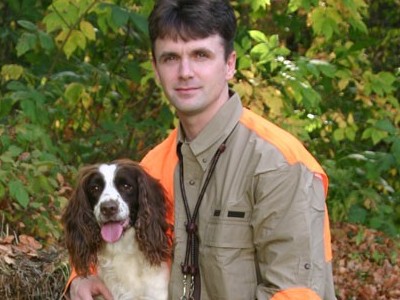 Live hunting dog demos will be going on all weekend at the show. Come see professional dog trainer, Geoffrey English as he demonstrates the techniques he utilizes to get the most out of his hunting dogs.
From basic through advanced field work, Geoffrey will be doing his hunting dog demonstrations at the retrieving pool all four days of the show.
This is your chance to learn new skills that will help you get the most out of your hunting dogs. Geoffrey is committed to providing the outdoor enthusiasts with the very best information on hunting dogs, so be sure to catch is great program.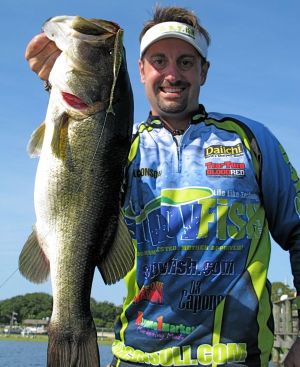 Come meet Bass Pro Lou Consoli and learn how he catches monster bass like this one on SkippyFiSH Baits!
Lou has been competing at one of the highest levels of competition in the sport since 1989. It was in that year that he earned the title "Rookie of the Year" by the MBAA tournament organization.
In 2007 Lou Consoli founded SkippyFiSH Bait Company, which manufactures and sells his famous SkippyFiSH lures and other outdoor related products. In just a short time, Lou has brought his company to worldwide distribution in over 15 countries and has sold over 600,000 units of his product. Find out more about these baits that grab the attention of hungry Bass while you're down at the show.
With a strong commitment to helping others, Lou recently formed a non-profit organization called Anglers Feeding America. This Christian based organization's mission is to help feed low-income families during the holidays and to provide food and water during disaster relief efforts.
Be sure to ask about this great cause when you see him down at the show.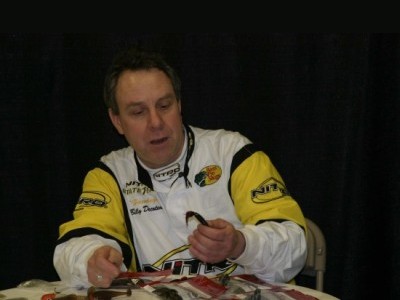 Outdoor journalist and bass expert, Billy "Hawkeye" Decoteau will be presenting a full series of fishing seminars at this year's Springfield Sportsmen's Show. Billy has a strong passion for pursuing Black Bass and he loves to share his fishing knowledge, so be sure to catch all of his presentations. Here is the line-up of seminars Bill Decoteau will be giving this year's show:
Drop-Shot Techniques
Fishing Umbrella Rigs
Cranking Grass and Timber
Flipping Tips from the BASS Elite Trail
Rigging Time Saving Tips
Balanced Tackle Techniques
Eliminating Back-Lashes
Seasonal Swimbaits Tactics
New Baits for 2013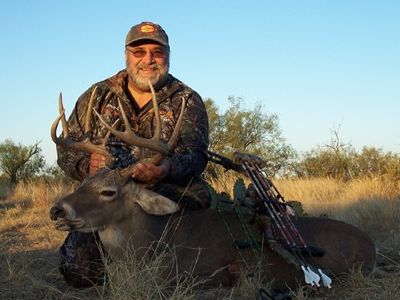 With years of bow hunting experience under his belt, Del Delmastro has built an extensive repertoire of tips, tricks and techniques on how to take down big game with only a bow.
Come down to the show to see Del and his hunting seminars.
There is much to learn from this bow hunting expert.

Learn from fly fishing expert, Marla Blair. She has owned and operated Marla Blair's Fly Fishing Guide Service & Instruction since 1993.
This celebrity Look-A-Like for Bette Midler is known as a top female, freshwater, fly-fishing guide/instructor for Western Massachusetts.
Marla Blair will bring all levels of fly fishing expertise, from the very basics of casting to fishing the fly line hot spots. She'll cover Alaskan silver salmon on the fly to Patagonia native browns and rainbows, so you you are passionate about fly fishing as Marla, you will definitely want to catch her seminars.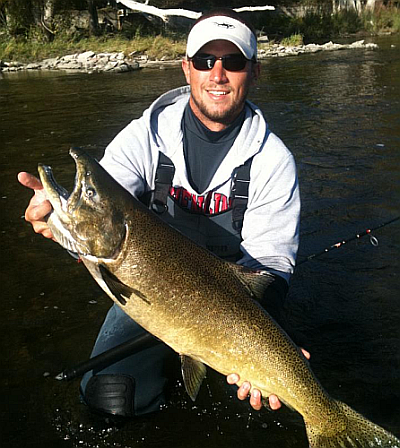 If you would like insight on how to catch record breaking fish off the cool waters of Lake Ontario, then come down to the Springfield Sportsmen's Show and listen to Chad Gehrig. Chad is the charter boat captain of the "Son Of A Gun."
Chad will be presenting a fishing seminar titled, "Fishing Lake Ontario"
2012 was an exciting year for Chad as he proved himself to the fishing community when he took first place in the Oswego ProAm, finished first place in the summer LOC derby with a 30+ lb king salmon, and finished 2nd in the a Tom-mik challenge all while competing against Lake Ontario's finest captains and anglers.
Chad dosen't just win tournaments, he holds them as well and in 2012 he held a Ladies Fishing Tournament out of Oswego as a benifit for breast cancer research. During this event, Chad raised $1,500 for his cause.
He plans to expand the tournament in 2013 and has already set a goal to double both the donation and the tournament size!
Be sure to learn catch Chad's big fish seminar down at the show!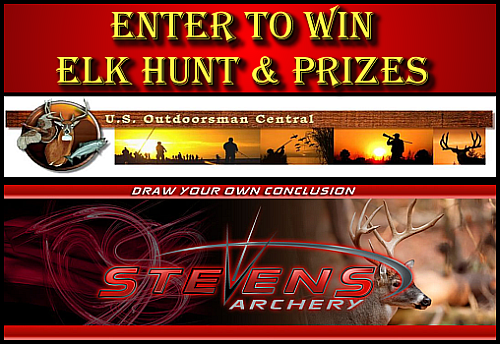 Stop by the US Outdoorsman Central booth at the show and find out about the amazing Cache Creek archery Elk hunt trip and how you can enter to win.
There are a ton of prizes included in the trip. Just added into the mix is a very special prize from Stevens Archery, a "Prevailer" high tech bow valued at $900! WOW.
If you are the lucky winner, your hunt will be filmed by Hard Core Hunter TV for US Outdoorsman Central and aired on the Pursuit Channel. Can you believe it? You could become the next big hunting star on TV.
All you have to do is stop by the US Outdoorsman Central Booth and get all the details. Good luck!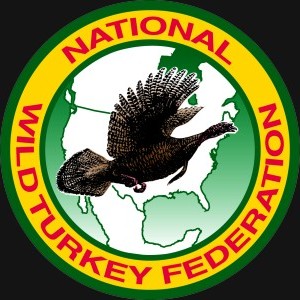 Watch and listen to area turkey hunters compete in this prestigious competition sanctioned by the National Wild Turkey Federation. If you have a great turkey call, you may want to enter this competition and try your luck. Who knows, you may just win a prize.
If you love hunting wild turkey, you're in for a treat!
Joe Judd, will be presenting one of his incredible turkey hunting seminars down at the show. Joe is an award winning turkey caller who has perfected his craft and has over 35 years of hunting experience to his credit.
This highly regarded expert is a member of the Quaker Boy Pro Staff and he is also a member of the hunting Pro Staff for Alpen Optics.
Come down and learn everything you ever wanted to know about wild turkey.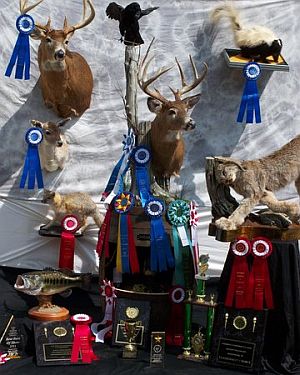 Vincent Kersey is an expert taxidermist who will be doing a live taxidermy presentation at the show.
If you have bagged your first trophy buck and now want to keep the memory of your amazing hunt alive; the answer: 3 Arrow Taxidermy!
Everyone knows what taxidermy is, but few know the process. What does it take to create an awe inspiring mount to hang over your fireplace?
Find out during Vincent Kersey's Live Taxidermy Demonstration.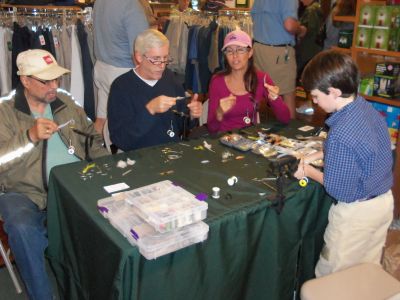 Come meet the "Fly Tying Kid", Thomas Drummey.
Don't judge him by his age, although only 11, Thomas is a seasoned pro when it comes to tying flies. He started at an early age and now can be seen teaching clinics at LL Bean and Cabelas.

Thanks to Ducks Unlimited, you could select one of 30 guns as your prize if you are picked as the lucky winner. Wouldn't you like to win the Ducks Unlimited Great Gun Giveaway?
Ducks Unlimited is a tax exempt non-profit that is focused on the conservation of waterfowl habitat. In order to bring more attention to their cause, they have developed this special gun giveaway and it's sure to draw the attention of hunters everywhere. Get all the details at their booth.
As conservationists and outdoor enthusiasts, Ducks Unlimited is dedicated to helping suport nature. Their goal is to conserve, restore, and manage wetlands and the associated habitats for North America's waterfowl.
Be sure to stop by the Ducks Unlimited booth to find out more about them as well as enter the Great Gun Giveaway!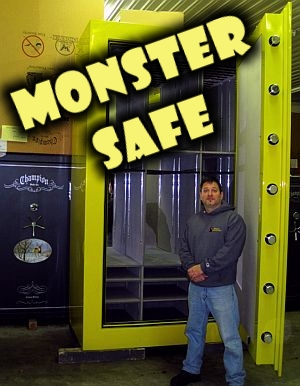 Come see the the Monster Safe! This mammoth yellow beast is twice the size of a man! The kids love this. It definately gets attention from across the room and it has tons of storage space. Imagine if it was yours. How much gold could you store in a safe that large? Even if you don't need a monster like this one, Eastern Security Safe Company has a full lineup of safes to meet your needs.
Come and see the giant safe and meet the guys from Eastern Security Safe Company.
This family business offers all types of safes to their clients throughout New England.
So whether you are looking for a gun safe or one for all your valuables, the guys at Eastern Security Safe will have plenty of quality safes to meet your needs no matter what size you are looking for.
There are so many things to see and do at this years show, but with four full days, you'll have plenty of time to catch all the action!
Mark your calendar for February 21-24, 2013.
The Springfield Sportsmen's Show will be held at the Eastern States Exposition, Home of the "Big E', 1305 Memorial Avenue in West Springfield. We'll see you there!