The 2015 Springfield Sportsmen's Show
The Springfield Sportsmen's Show is undisputedly the largest "pure" sportsmen's show in the Northeast! This mega sporting event takes place on February 19-22, 2015 at the Eastern States Exposition, home of the "BIG E," West Springfield, Massachusetts. The show includes the best of hunting, fishing, boating and adventure recreation that the outdoor world has to offer all bundled together in one great event. You'll find everything you need for your next trip!

The new 2015 show contract has been posted for our exhibitors.
Now is the time to reserve your space for the 32nd season of this amazing show!
While we're working on the upcoming show, feel free to check out our content from last year's show.

LAST YEAR'S SHOW INFO
_________________________________________________________________

All of the information below is from the 2014 Springfield Sportsmen's Show
_________________________________________________________________


People from all over the Northeast love the Springfield Sportsmen's Show, because it is loaded with great show features including educational hunting seminars, fishing seminars, and fun exhibits like our big casting pool, the retrieving pool, and the giant fresh water fish aquarium!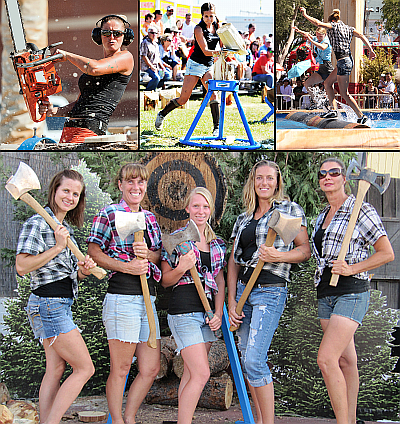 The Axe Women Loggers of Maine!
Come see the axes fly in a spectaculare all female lumbering exposition event taking place at this year's Sportsmen's Show!
Get ready for the Axe Women of Maine!
This incredible troop of women are all pros when it comes to competition.
The Axe Women feature more current World Champion performers than any other show. Bottom line, you are in for a treat. Come down and see a wide aray of timber sports as these remarkable ladies showcase their mad skills in this action packed LIVE lumbering event.
You'll see Underhand Chopping, both one and two women Cross-Cut Sawing, Axe Throwing and everyones favorite the Log Rolling. You know someone's getting wet! Fun for the entire family. Come meet these female athletes and find out about this exciting competition sport
World renowned big game hunter and TV star, Dick Scorzafava will arrive at the Springfield Sportsmen's Show to present his well known Radical Hunting Success Seminar, sign books for his many fans and of course giveaway thousands of dollars worth of hunting gear in Dick's Big Gear Giveaway!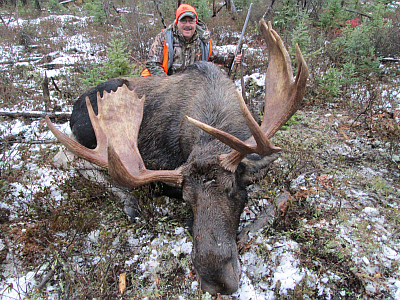 Dick Scorzafava is "The Radical Hunter." Known throughout the industry as an expert in the field, Dick has three books to his name, Radial Bowhunter, Radical Bear Hunter, and Spies in the Deer Woods!"
Although Dick is a prolific author and conducts over 75 seminars throughout the country, it is his amazing skill in the field that has built his reputation as a master outdoorsman.
Dick "Scorz" again! Look at this incredible Manitoba Moose. Over 51 inch spread and about 1400 pounds. Not a bad little bull. It's so huge, you can barely make out Dick in the back of the picture. This is just one of the many animals Dick Scorzafava took during the 2013 hunting season.
It is this reputation that allows Dick to giveaway thousands of dollars in hunting gear in his Big Gear Giveaway thanks to his extensive list of sponsors. Come and learn from "The Radical Hunter!"

Protect Your Right to Hunt
Are you concerned that your rights are being taken away? Each year advocacy groups spend millions of dollars to do just that. By working within the political system, they push laws through that impact your rights. The only way to stop this is to become informed and get involved. This November oposition to bear hunting will be on the ballot in Maine.
The Maine Wildlife Conservation Council is hard at work on the Save Maine's Bear Hunt Campaign. They need your support. Stop by their booth at the show, learn the facts and find out how you can support bear hunting in Maine.
The outcome of this issue will impact all hunters, so take a moment while you are at the sportsmen's show and learn what is happening in Maine right now.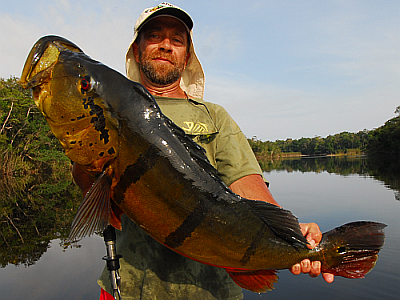 Come meet Paul Reis and learn all about his adventures in the Amazon! Owner of Acute Angling, Paul knows where all the big fish are and as you can see, the Peacock Bass get quite large in his neck of the woods!
Paul will be giving a seminar on Saturday called, "Acute Angling Costa Rica. You'll want to make sure and attend this one. Paul makes his living by providing providing extreme fishing trips in the Amazon and all around the waterways of South America.
If you have ever considered going on a big trip for some exotic species of fish, you need to block out your time and meet Paul Reis.
Everyone loves landing trophy size fish and for the guys at Acute Angling, it happens all the time. Now is your chance, come and talk with Paul and find out how easy it can be to go on a trip of a lifetime.
Captain Bill Brown returns to share fishing expertise in two special seminars. The first is "Rigging Right - Tackle Tips for Inshore & Offshore Success." His second presentation is titled, "Block Island Bonanza-Targetting Trophy Sharks." WoW! Two fantastic seminars from the Ironman!
We are pleased to have this well known seminar speaker with us at the Springfield Sportsmen's Show. If you want to crank up your level of success on salt water, Captain Bill is the guy to see.
He is an acknowledged expert for both inshore and, especially, offshore angling where his ability to capture big sharks is legendary!
If you love the thrill of catching record breaking fish, you need to meet Captain Bill Brown.
His clients presently hold six State Gamefish Records, including the 506 pound Thresher Shark that won the 2003 Oak Bluffs (MV) Monster Shark Tournament and set a new MA State Record for that species.
You may have seen him on NESN, VERSUS, and ESPN's 'Madfin' series, but now you can meet him in person! Come down to the show and learn from this fishing expert.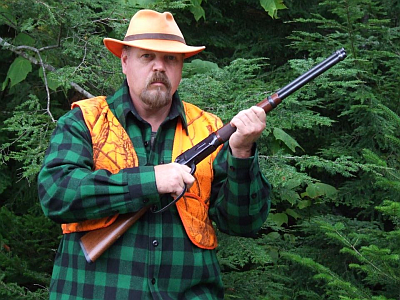 Well known outdoorsman, writer, and master guide to hunters seeking adventure in Maine's deep woods, Randy Flannery will be at this year's show. Randy and his family own Wilderness Escape Outfitters.
If you are interested in hunting big bucks, massive moose, and bountiful black bear, then you need to come and talk with Randy.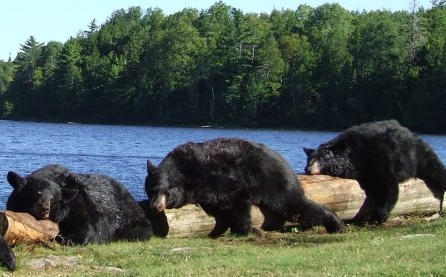 While at the show, be sure to catch Randy Flannery's special hunting seminar. During it, you will learn many tips from this exceptional northern woods guide.
Did you see all the action take place on the Lisa & Jake on the National Geographic Channel? If you love the show Wicked Tuna, then you know what we are talking about.
Now you can come and meet the captain!
Gaptain Kevin Twombly will be at the Springfield Sportsmen's Show. Stop by booth #248, get the inside scoop and find out about all of the excitement from the show and learn why Kayman Charters had developed such an incredible reputation for catching lots of high quality fish.
"The most productive Charter boat in the North East"
Mass. Fish & Game

Kayman Charters is not just know for trophy tuna catches, they also are skilled at landing incredible Bass, Cod, and Haddock off of the shores of Gloucester, Massachusetts.
If you have a passion for deep sea fishing, you will want to spend some time talking with Captain Twombly and his crew.
Be sure to stop by booth #248 and ask about their 2 trip special offer.
"Am I ready for my trip into the outdoors?" "What if...?" "Am I prepared...?"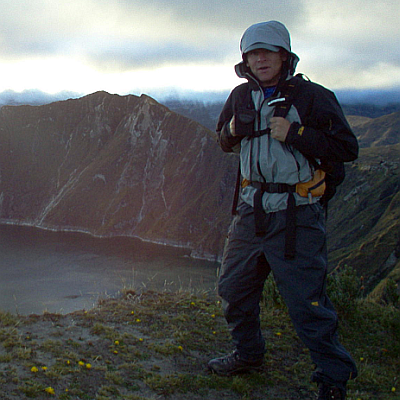 These are the question that folks should ask themselves every time they venture into the outdoors, says professional outdoor adventure educator and backcountry wilderness guide, Tim Vogel.
Tim is the owner of Tekoa Mountain Outdoors and has over 25 years of experience in the field of adventure recreation.
In addition to teaching individuals about the outdoors, Tim also leads a professional certification program for the outdoor professionals called the Wilderness Outdoor Leadership Fundamentals program (W.O.L.F.)
Now is your chance to learn from this world traveler who has lead international mountaineering trips & paddling expeditions into the Andes and Headwaters of the Amazon in Ecuador, South America.
While at the show, Tim will talk on the Ten Essentials for survival in New England in all 4 Seasons, Wilderness First Aid, and the 7 principals of Leave No Trace. LNT. Come and see what they are, for your safety and for the safety of others. Make sure to put the Ten Essentials in your pack before your next adventure. Let Tim lead you down the path of enjoying the backcountry or your local park safely.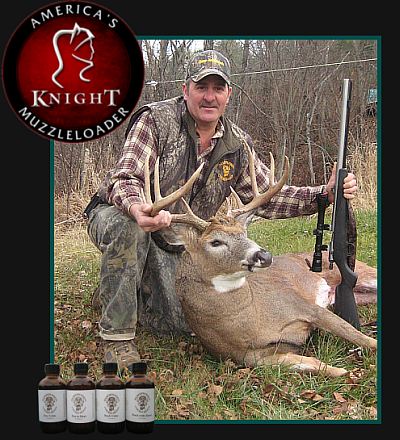 KNIGHT RIFLES Pro Staffer, Dean Vanier of North Woods Common Scents has a special seminar for you.
Are you ready to increase your hunting success in the woods?
Dean will be presenting a special seminar on Northwoods Common Scents and Calling Whitetails at the Springfield Sportsmen's Show.
In his seminars, Vanier will show you how to beat the whitetail's superior defense mechanisms. By doing so you will increase your odds of success in the deer woods.
With over 35 years of successful hunting, Dean's seminars are in high demand. He has shared his sure fire hunting techniques at the NH fish and Game Department, Vermont's Yankee Sportsman's Classic, Maine's Pine State Classic and now you can benefit from his extensive knowledge at the Springfield Sportsman's Show.
Meet professional big game hunter Jurie Meyer of Jurie Meyer Safaris. This native of South Africa has developed the ultimate safari experience for the hunter who is looking for that once in a lifetime adventure. Africa! You just have to say the word and the incredible imagery comes to mind. Every trophy hunter dreams of going there some day and Jurie Meyer is the guy who can make your dream come true. Just ask Dick Scorzafava, he has been on Jurie's safari and enjoyed his time in Africa so much that he is now the official American contact for Jurie Meyer Safaris. As you can see from the picture, Dick had a great time.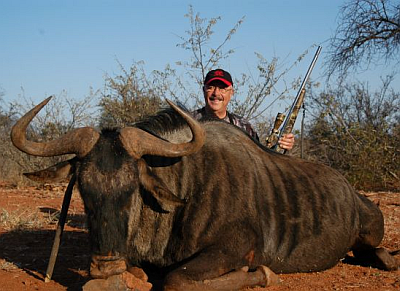 Jurie has guided clients successfully on all of the Big 5 animals. He has hunted himself as well as with clients in 7 different countries in Africa. He guides clients with any weapon of choice, but specializes in Bow hunts on dangerous game and during the show Jurie will share his knowledge in a seminar titled, "Hunting Dangerous Game in Africa."
This is one pro, you can not afford to miss! We are thrilled to have Jurie with us for this special appearance at the Springfield Sportsmen's Show and we are proud to have the opportunity to bring Jurie's vast amount of hunting knowledge to the show.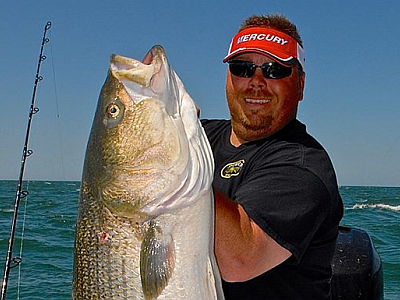 Fishing Pro Staffer, Captain Mel True is coming to Springfield Sportsmen's Show! Mel brings over 25 years of experience on the open waters off of our beautiful New England shores. He knows how to catch the big ones and he is willing to share his vast knowledge.
If you are looking to learn how to catch the kind of fish that could land you on the cover of your favorite fishing magazine, then you need to catch Captain Mel True's seminar, "Vertical Jigging Bass & Blues!"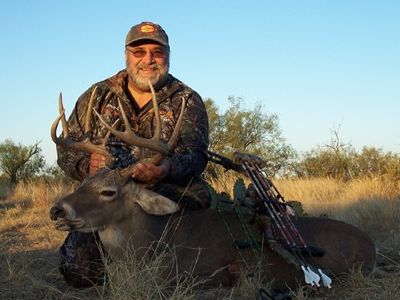 With years of bow hunting experience under his belt, Del Delmastro has built an extensive repertoire of tips, tricks and techniques on how to take down big game with only a bow.
This year he will share his expertise on hunting black bear.
Dell will be giving a special seminar on Friday the 21st. Come down to the show to learn from this expert of the bow in his seminar, "Spring & Fall Black Bear with the Bow."
One day only! If you are a bow hunter, Don't miss your chance to hear and see Del Delmastro.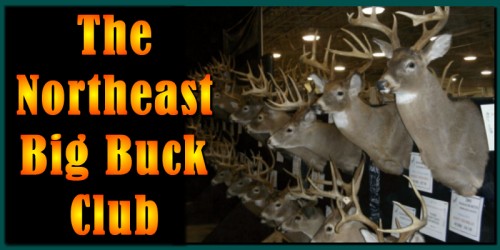 One of the special features of the show is the Big Buck Display. This is a remarkable display put on by the Northeast Big Buck Club, a non-profit organization dedicated to Northeast hunters and outdoorsmen.
Each year hundreds of volunteers measure trophy bucks from MA, CT, VT, RI, ME, NH, NY and PA.
The walls are lined with incredible racks.
After the hunting season, the Northeast Big Buck Club hosts an awards banquet. Awards are presented to the largest typical and non-typical bucks harvested in the previous year with a bow, gun and muzzleloader.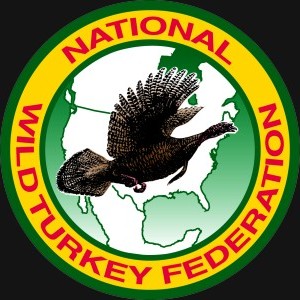 Watch and listen to area turkey hunters compete in this prestigious competition sanctioned by the National Wild Turkey Federation. If you have a great turkey call, you may want to enter this competition and try your luck. Who knows, you may just win a prize.
Mark your calendar for February 19-22, 2015. The Springfield Sportsmen's Show will be held at the Eastern States Exposition, Home of the "Big E', 1305 Memorial Avenue in West Springfield. We'll see you there!